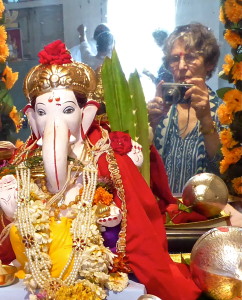 Susan Bean curates, writes, and consults on the visual arts and culture of modern South Asia.  She is Chair of the Art & Archaeology Center of the American Institute of Indian Studies. She is an Associate of the Peabody Museum at Harvard University. She was senior curator for South Asian and Korean art at the Peabody Essex Museum until her retirement in 2012. Previously she taught anthropology at Yale University.    
Currently:
Recipient of Paul Mellon Centre Research Support Grant, 2015 – 2016, for archival research on colonial period clay figural sculpture in India.
Recipient of Asian Cultural Council Grant for research on clay sculpture in India, 2014 – 2016.
Vestoj: the Journal of Sartorial Matters, Issue Five, 2015, "Spinning for Freedom: On How Viewing Khadi as Theatre Unravels the Narrative of Mahatma Gandhi."
Consulting curator for Kindred Nations: The United States and India: 1783-1947, organized by Meridian International and traveling in India, 2015.
Guest editor, special issue of Marg Magazine, Arts of Bhutan, vol. 66, no. 4, June 2015.  https://www.academia.edu/14713446/Introduction_to_Marg_issue_June_2015_The_Arts_of_Bhutan; https://www.academia.edu/14658137/In_Conversation_with_Her_Majesty_the_Queen_Mother_of_Bhutan_Sangay_Choden_Wangchuck
Previously:
C

urated series of exhibitions in the U.S. on the art of modern India:

Midnight to the Boom: Painting in India after Independence from the Peabody Essex Museum's Herwitz Collection

  (2013),

 Painting the Modern in India 

(2010), 

ReVisions: Indian Artists Engaging Traditions

 (2009); 

Gateway Bombay 

(2007), 

Epic India: M. F. Husain's Mahabharata Project 

(2006),

 Exposing the Source: Paintings by Nalini Malani 

(2005); and 

Timeless Visions

: 

Contemporary Art of India from the Herwitz Collection

 (1999). 

Brought the Herwitz Collection to the Peabody Essex Museum; created the first dedicated gallery for modern and contemporary Indian art in an American museum.

 

D

eveloped PEM's first gallery dedicated to South Asian vernacular and regional art, securing support from the Prashant H. Fadia Foundation and the Deshpande Foundation.

Published Yankee India, on the early encounters between India and the United States. Curated related exhibitions in Kolkata for the city's tercentenary celebrations in 1990, and at PEM for the 1985-86 U.S. Festival of India.
Co-curated the1994 traveling exhibition, From the Land of the Thunder Dragon: Textile Arts of Bhutan, with Diana Myers. The exhibition received awards for excellence and the companion book was reprinted in 2008. The Royal Government of Bhutan acknowledges this project as the source of inspiration for the country's National Textile Museum and Royal Textile Academy.
Held visiting appointments at Brown, Columbia and Harvard Universities and Wellesley College.
Served as founding board member of the Textile Society of America, and president of the American Council for Southern Asian Art. Sat on the boards of the Council for Museum Anthropology, the American Ethnological Society, and the South Asia Council of Asia Society. Peer reviewer  for the National Foundation for the Humanities, the Institute for Museum Service, the Fulbright Foundation, the Wenner-Gren Foundation,  the Smithsonian Foreign Currency Program, and the Woodrow Wilson International Center.
B.A.  Brown University; Ph.D. Anthropology, Columbia University.